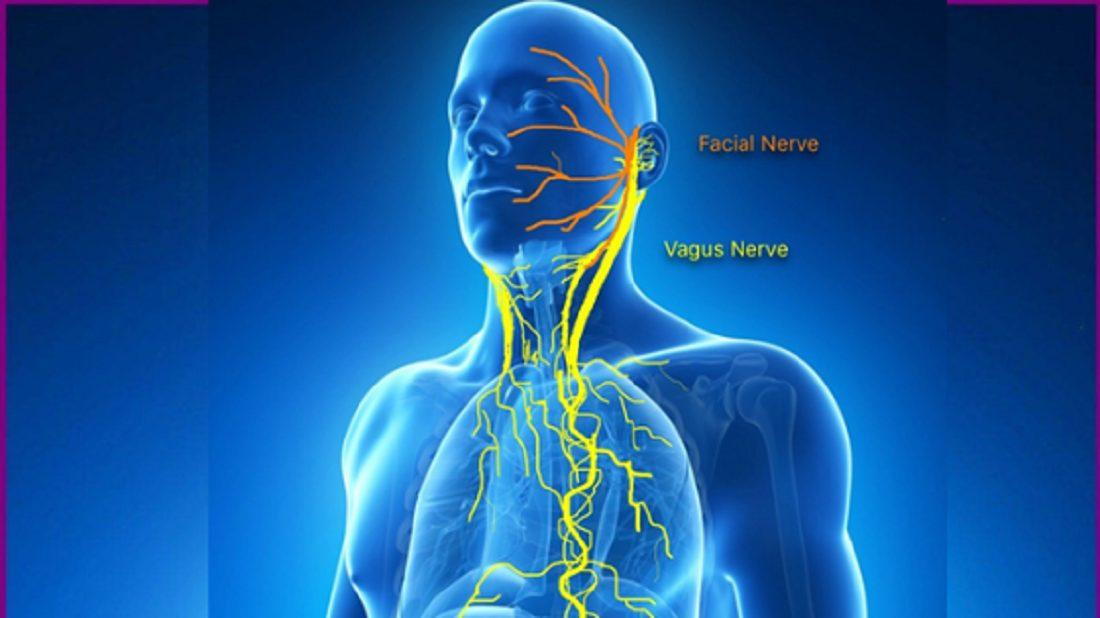 The Vagus nerve is a very hot topic with a lot of research especially as it correlates to high levels of stress and chronic illness. The Vagus nerve is one of 12 cranial nerves that exit around or near the upper neck or cervical region. As a chiropractor we have known the importance of this nerve and not only maintaining health, allowing the body to deal with increased levels of stress and overall relaxation.
The Vagus nerve is the longest nerve in the human body and starts at the bottom of your skull or brain stem is travels all the way to your stomach. It has many branches that extend from the brain to the heart, lungs, stomach and most of the major organs above and below the diagram.  Its function is extremely important to all of the organs and even more than we would even expect. This Vagus nerve has a control switch between the calming rest state of digestion of the body or parasympathetic nervous system and the activation of the fight or flight response of the sympathetic nervous system. While we know the importance of survival of a sympathetic during danger, sometimes this Vagas nerve can get stuck in this flight or fight mechanism. What essentially happens is the Vagus nerve blocks the body's ability of the nervous system to relax or to heal itself because it's always stuck in this high level of defense or fighting mechanism. The Vagus nerve regulates several mechanisms like anxiety and the fight or flight response, immune system defense and digestion. When the Vagus nerve is not functioning at 100% it can be causing poor health such as digestive issues, hormone imbalances and chronic diseases.
As a chiropractor when after examination, consult and x-raying patients, I found that many times they have a spinal misalignment in the upper cervical (neck) region. Dysfunctions of the Vagus nerve can contribute to a multitude of chronic diseases which may include diabetes, heart disease and digestive issues. It also can contribute to high levels of mental conditions like post traumas, anxiety and depression. Increased vagus nerve function may help improve the bodies need ability to restore itself after high levels of stress, trauma or poor habits. When a Vagus nerve works at a much higher level it helps regulate information immune system, digestion or hormone imbalance and the restores the bodies' ability to shift itself back to a homeostasis (balanced) and healing ability.
Here are several ways that you can help restore the Vagus nerve to work more naturally.  Have your upper cervical spine evaluated and examined by a Chiropractor, to see if there's any misalignments or subluxations in your cervical spine and having that interference removed. There are several supplements that help the nervous system and heal tissues promote sleep and calm which include theanine, 5HTP and melatonin. Improve your gut digestion with probiotics and digestive aids helping restore digestion and proper absorption of vital nutrients. Stimulate the Vagus nerve with singing, humming, chanting or laughing. Breath work type deep breathing will help reset the Vagas nerve. I have used cold showers also activate, stimulate  and reset or balance the Vagus nerve for many years (Thanks Iceman). Regular practice of meditation which may include yoga, tai chi and chi gong to help you better deal and cope with stress. So, there you have it the Vagus nerve. The most interconnected and longest nerve of the body and maybe we should say what  happens in Vagus doesn't always stay in Vagus . Thanks for reading, Dr. Joe.